Sustainability &
environment
Sustainability is a big and important word of our time – and it means to take responsibility. The Schneckenreither forwarding company attaches great importance to environmentally friendly and forward-looking action as well as careful use of natural resources. We want to provide for our future and contribute so that future generations will also find a world worth living in.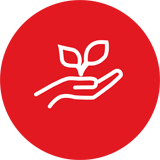 Our photovoltaic systems produce emission-free electricity for use in the company.

We invest in our environmentally friendly vehicle fleet, for example in the LNG trucks with hydrogen drive and eco-friendly e-cars.

We undergo audits, renew our certificates and continuously initiate optimization measures.

We develop efficient and environmentally friendly transport solutions.

We raise awareness among our employees to issues concerning the environment and sustainability.
Current topics related to sustainability and the environment can be found under News.